Pharmacogenomics: For Pharmacy Clinical Practice
Use Personalized Prescribing Resources to:
Help your patients and their doctors prescribe the most appropriate medication with the least side effects

Enhance your practice and profile

Increase your revenue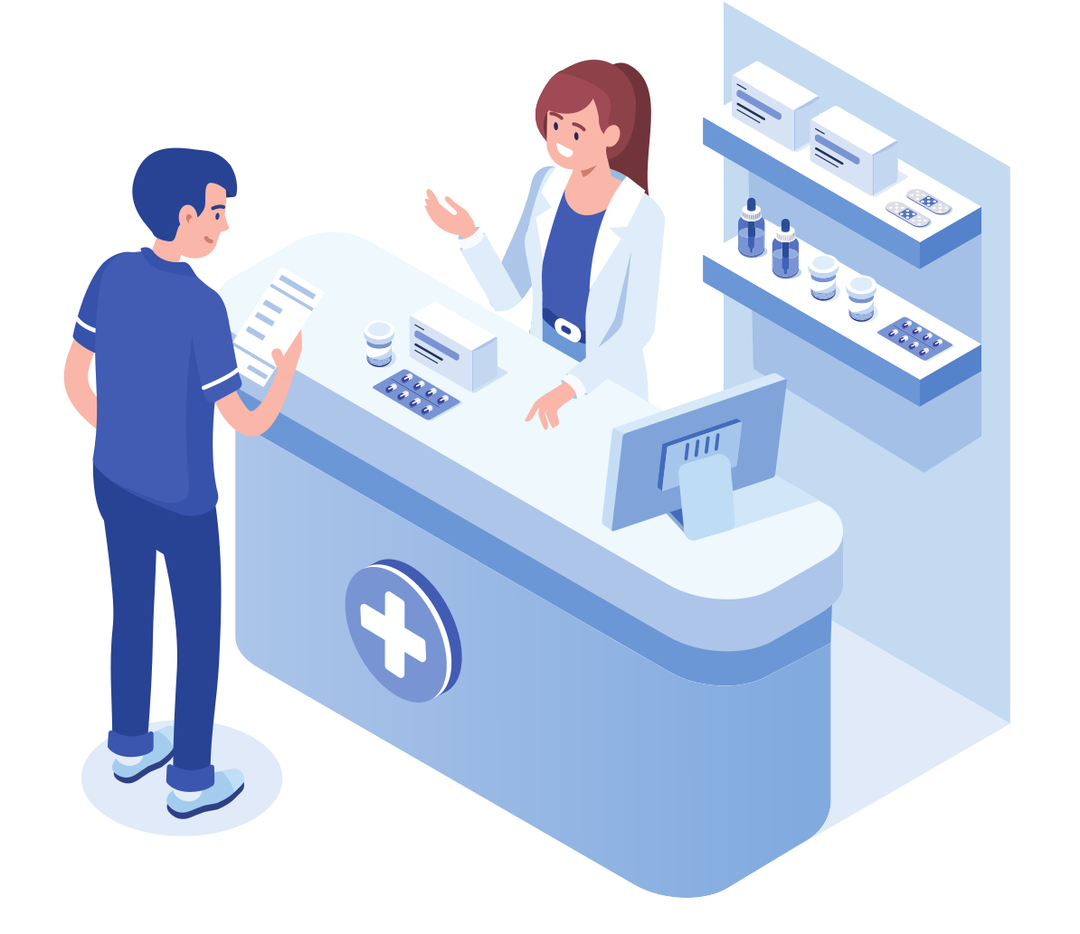 1. Program Overview
Offer Pharmacogenomic Services using one of these two models:
1. Full Service
You are the pharmacist who deals with your own patients and interprets their results

Our lab will analyze your patient's genetic profile

You produce the "Pharmacist Recommendations", with assistance from our software and our in-house pharmacists

You fax the results to the doctor
Your Patient, Your Recommendations, Your Exceptional Results
2. Referral Only
You simply refer patients to us

There is no need to interpret results or prepare recommendations



You earn more from the Full Service
2. Why Personalized Prescribing?
      Most providers offer only pharmacogenetics analysis; our panels are comprehensive; they include pharmacodynamics with a long list of brain receptors and transporters that no other provider has.
      We offer four panels: including a Psychiatric & Pain panel, a Cardiovascular Plus panel, a Chemotherapy panel, and an Auto-immune panel.
      Our offering includes a "Pharmacist Recommendation" that is guided by our proprietary software and prepared by a specially trained, certified pharmacist
     Our psychiatric panel is proving to be very effective. Our results are spectacular. Click to view our Google Reviews!
3. What We Do
We are here to support you!
Our pharmacists train and certify you
Upon receiving your patients saliva sample, our lab analyzes it within 5-7 business days
We upload the results to our proprietary backend software and produce your patient's preliminary drug profile
We notify you and email when your patient's results are ready
We help you increase your revenue!
4. What You Do
You identify the patients that might benefit from a pharmacogenomics service.
Your clients purchase the test from you or from our website using your code. 
Upon the upload of your client's profiles, you logon to our system to interpret the results and prepare your recommendations. You also set login IDs and passwords for your clients.
You deliver the access parameters to your clients, you fax your recommendations to their doctor, discuss the results with your clients and their doctors as applicable. 
You are there to guide your patients in tapering off old medication, titrating new medication, drug interactions and managing side effects.
Upon signing the Non-Disclosure Agreement, we will provide you with a login ID and Password to our Associate Pharmacist Portal.
FAQ
1. What is Rx Report™?
Rx Report™ is a pharmacist assisted genetic drug compatibility test offered by Personalized Prescribing Inc. to identify the most effective medications with the least number of side effects. 
2. Which drugs are tested?
Click here to see our Drug List. 
3. How long does the test analysis take?
It takes 5-7 business days to complete the analysis after we receive your saliva sample at our laboratory. 
4. How much does the test cost?
The website price is $499 plus HST. However, some insurance companies cover the test, and if purchased using the insurance company's web portal, the price is $399 plus HST. 
5. How do patients collect their DNA sample?
Sample collection instructions will be sent to them with the DNA sample kit. They need to follow the instructions to collect sample and call Purolator to send the sample back to our laboratory. 
6. Are there any special instructions before collecting the sample?
Patients should not eat or drink for 30 minutes before taking the sample. Also, it is better they brush their teeth 30 minutes before they collect the saliva. 
7. Do patients have to pay for the shipment?
No, the shipment charge is included in the plan. 
8. How do patients see their results?
The pharmacist sends the summary report via email. A link with the patient's unique login ID and password will also be sent to them to view their genetic report. 
9. How accurate is the test?
The genetic test analysis is 99.99% accurate. However, the interpretation of the test results is done by our pharmacists. They use the latest scientific publications and evidence available in various scientific platforms to interpret the test results and provide recommendations. 
10. Is there any scientific evidence behind the test?
Rx Report™ test is supported by compelling scientific evidence available on multiple health sciences platforms such as PharmGKB, Clinical Pharmacogenetics Implementation Consortium (CPIC), Food and Drug Administration (FDA), etcetera. The tests analyze up to 54 genes and 104 genetic variations.  
11. How do you ensure my patients privacy?
All information that is provided is kept private and confidential, and information is only used on an aggregate level (for statistical purposes) to improve our services, showcase medication response patterns via research publications, and inform the care of future patients. 
In addition, because of the Genetic Anti-Discrimination Act passed in April 2017, no person or entity may discriminate against any individual based on their genetic information.
Still Have Questions
Please feel free to contact us by phone or email
1 (844) 943-0210
info@personalizedprescribing.com
Use left/right arrows to navigate the slideshow or swipe left/right if using a mobile device